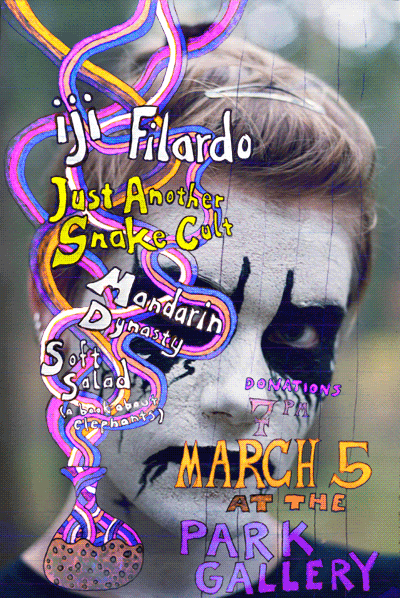 Next Monday, March 5th I will be doing a short solo set here in San Diego to open up for some great out-of-town bands. Expect something weird and different from me.
iji is going to lay down some sweet good-feelin' post-twee:
Filardo will soothen you with his croon:
Last time we played L.A. we were treated to a surprise performance by Mandarin Dynasty, and he left us with a CD-R of his then-upcoming album which I got to listen to in the car, and wow it was all really great. Looking forward to seeing him again and grabbing a copy of that album!
Mandarin Dynasty – Toledo Blues.mp3
I haven't seen or heard Soft Salad yet, but this will be the chance.
Doors at 7pm. Please bring a donation for the touring bands. They'll have come a long way.